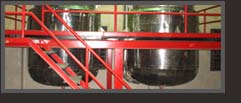 Nice Cosmetics is a division of a RAAGA group of Companies, India, involved in the manufacturing of cosmetics, toiletries and home care products. RAAGA is a professional firm which specializes in exclusive health and beauty care cosmetic products to suit the taste of the ethnic population. A strong backup of trained workforce, systematic approach towards production with reliance on internal documentation and obtaining stringent quality checks have made us a  reliable and value driven partner to our customers.           
The company is well-positioned to meet and exceed its customer's needs for high quality full range of beauty cosmetics packaging solutions. The company has been highly acclaimed for its technical expertise, innovativeness and high performance. The company has made strong its global presence and has substantially reinforced its leadership positions in beauty cosmetics packaging. It has enjoyed a tremendous growth, developed good reputation with an image of excellence for customers.

Nice Cosmetics provides a complete range of machinery with advance technology in manufacturing, packing and storing with exclusive quality control before dispatch with the supervision of a highly responsive team. Our name is synonymous with innovative research and improvements in packaging of cosmetics.
The company has extended its marketing resources to many corporates like TTK, HIMALAYAS, HENKEL, NAGARJUNA and so on. The company is fortunate enough to have a retail network of  nearly 60 eminent distributors covering the entire Kerala State. With our fully integrated manufacturing facilities, Nice Cosmetics is fully equipped in handling your packaging needs from tube packaging to pouch packaging.
Total commitment, exclusive quality, utmost dedication and complete customer satisfaction are our goals.
PROMOTER
Heading the team of Nice Cosmetics is the most enterprising Director Mr.  KS. Shekar, an engineering graduate, a gold medalist, who has wide experience of more than 20 years in Chemicals, Soaps, Detergents and Cosmetics.
ASSOCIATED CONCERNS
| | |
| --- | --- |
| | RAAGA COSMETICS |
| | A-Z COSMETICS |
| | MATHA SOAPS & DETERGENTS |
| | PREMIER SOAPS |
| | KANJIKKODE VANITHA GRAMA VYVASAYA SANGAM |
| | NAGA HERBALS |
| | SUN MARK |
| | NICE COSMETICS |
| | NATURAL EXTRACTS |
| | SUN COSMETICS |